New in Reef Philippines!
__________________________________________________________
I started last August 8, 2012 with wrong lighting until march 9, 2013.
This March 10, 2013, my dad and I planned to transfer the aquarium near the sunlight for the shrooms to gain its color and to get natural lighting from the sun. So,
Here is the pic of the aquarium in new location.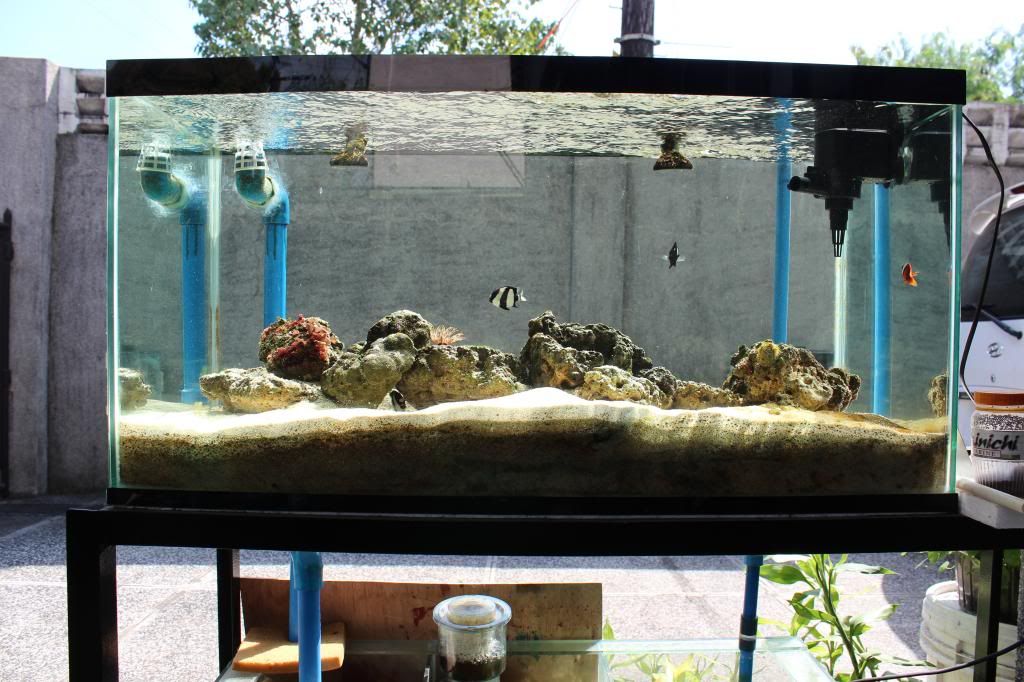 Specs:
50 gallon display tank
30-40 gallon sump w/ crush corals (not sure kung 30 or 40 gallons)
Resun 7800 (3000L/Hr) as return pump
4-5" sandbed kaso minsan nagiging 3-4 dahil hinuhukay ng fish....
Queen Turbo Skimmer na modified.
Natural Lighting, Lighting Hours:
6am - 11am Direct sunlight
11am - 4:30pm about 1 - 1.5 meters away from the sunlight
4:30pm onwards, Direct sunlight again
LS:
2x Striped Damsel (Zebra)
1x Tomato clownfish
1x Three Spot Domino Damselfish
8x Red mushroom
1x Green mushroom
18x Blue violet color mushroom (don't know its name)
1x Unidentified zoa
)
5x Nassarius snail
5x Normal size Astraea Turbo Snails
4x Baby Turbo Snails ( baby is around as small as the hole of a 5 centavo coin)
Supplements:
2.5ml Kent Essential Elements per week (Not dosing 2.5ml in 1 landing and have no test kits to measure those elements).
1 Drop of Kent Iodide per day. (Drop is from the needle of the syringe not from the end of syringe kaya mas maliit yung droplets na lumalabas. Doing it 1 drop kasi wala naman ako pang test ng iodide ko.
5 Gallon water change every week.
Planning to add more rocks, mushrooms, zoas and a SUB SUMP kung saan from 11am - 4:30pm nakadirect sunlight siya kasi during those times, hindi tumatama yung sunlight sa aquarium ko so balak ko sana dun siya tumama sa external sub sump with macro algae?
I'm buying my water from Sir Eddy Sy sa Del Monte and I'm not that sure kung ano yung saltwater niya. Saltmix or natural. Anyway, so far maganda naman quality ng water niya pero hindi ko pa natetest yung Mg and phosphate kasi wala akong pangtest nun. others are in good levels.
Bleached red mushroom....waiting for it to regain its color under the new location.
Blue Violet mushrooms and zoas bought last March 15, 2013 at cartimar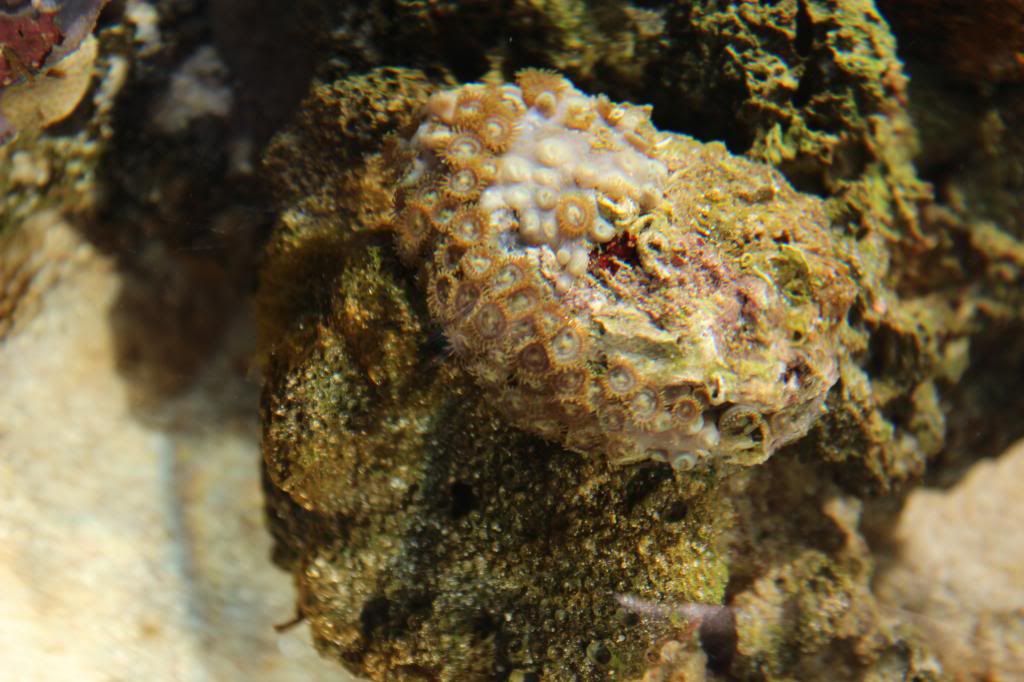 and my baby turbo snails! Got 1 picture of it. hindi ko lagi makita nag tatago or nagcacamouflage sa live rock ko.