Red Sea Coral Pro Salt.

Red Sea Coral Pro Salt 22kg. (15.4 lb.) Bucket/Water volume: 660 liters (175 gal.)
Also available per kilo.
Red Sea's Coral Pro Salt coontains biologically balanced, elevated levels of the foundation elements (Calcium, Magnesium, Carbonates) necessary for sustainable, accelerated coral growth.
Coral Pro Salt is ideal for reef aquariums, in particular for LPS and SPS corals, and for growing coral frags.
> All-natural eco-friendly harvesting from the water of the exotic Red Sea.
> Biologically balanced levels of foundation elements.
> Full complement of trace elements.
> Guaranteed parameters for 10liters / 2.5gal mix.
> No nitrates or phosphates (algae nutrients).
> No toxic levels of heavy metals.
> No chemical binders.
> Low moisture content.
Red Sea Refractometer.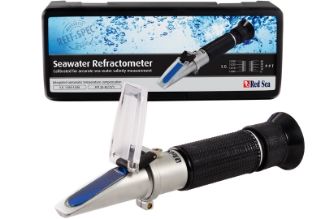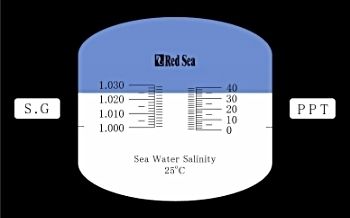 Main feature of Red Sea Refractometer include:
>Directly reads the absolute salinity of seawater at 25deg. C / 77deg. F (No need for seawater or temperature compensation factors).
>Specifically designed for the ionic content of seawater (NSW) for more accurate salinity measurement (industry standard refractometers are calibrated for salt brine).
>Calibrated for seawater (NSW) at 25deg.C / 77deg.F, the normal temperature range for reef aquariums (most standard refractometers are calibrated at 15deg. C / 59deg. F).
>Easier to read, higher resolution display, foccused to the relevant range for reef aquariums of up to 40ppt.
>Includes integrated Automatic Compensation (ATC) for accurate measurement at standard ambient temperature.